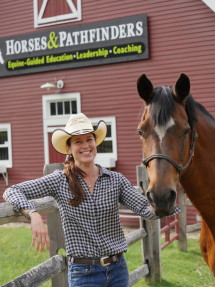 Lucinda Newman, Owner and Change-Leadership Coach
Lucinda founded Horses and Pathfinders, LLC in 2005 by blending her practical knowledge in Organizational Development and Business Consulting with her training and certification in Equine Guided Education. With extensive experience in business and leadership development, she is a forerunner in the Equine Guided Education professional field for over the last decade.
Utilizing her teaching, consulting and coaching skills, Lucinda guides and supports others to break through obstacles and realize their professional and personal goals. She and her horses have empowered hundreds of individuals and groups to make a difference in their lives, their work and the world by following her step-by-step methods.
Lucinda earned a Master's degree from Vermont Law School and holds various training certificates in Business Development, Professional Coaching, Conflict Resolution, Nonviolent Communication and Women's Empowerment. In addition to owning and operating Horses and Pathfinders, LLC, she has been faculty to SkyHorse Ranch, Holistic School of Business and Vermont Technical College Equine Studies Bachelor's program.
For over a decade, Lucinda's specialty has been Somatic-Bareback Horsemanship and Riding with a focus on key leadership ingredients and somatic sensibilities. Her leadership-centered work has been acclaimed in Living the Vermont Way, The Montpelier Bridge and profiled in the Times Argus and The World newspapers.
Equine Guides
"I was stunned by how the horses responded to me. . . absolutely amazing how the horses communicate with individuals." – Lynn W.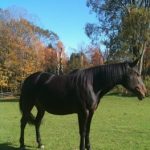 Pepper, American Standardbred mare
'Lyndon's Red Hot Pepper' was her racing name. She raced for three seasons then served as a brood mare. As the history of her scars tells, Pepper was involved in a trailering accident and survived her injuries. Remarkably, she is affectionate and interested in being with people. Pepper's role at Horses & Pathfinders has become life teacher for people and lead mare of this small herd. She has wonderful ground manners and a smooth and natural disposition for 'in to me I see' (intimacy) work.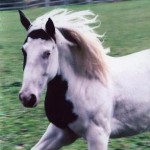 Inra, Quarter Horse, Paint gelding
'Inra', translated from American Indian language, means 'Apache Chief's Horse'. It was not uncommon for the Chief of a tribe to choose a horse marked with a Medicine Hat, Blanket and Shield because it was believed that this horse had superior strength, stamina, courage and speed. Inra also exhibits a Moon Eye, one blue eye that is thought to be mystical – we sometimes feel Inra's Moon Eye to be the stuff of alchemy. For almost his entire life, Inra has been immersed in Somatic Horsemanship learning and Equine Guided Education. He is highly attuned to boundary work, setting limits and making light work of heavy challenges; he responds to a person's energy and inner state with special attention and candor.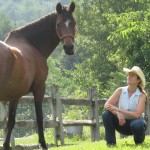 Abra Kadabra, American Morgan mare
'Image's Abra Kadabra', born and bred in Vermont, and traveled to and from Illinois, finally found her place at Horses & Pathfinders. The career from which she retired included: foaling two colts and one filly, teaching humans to master their saddle seat – from hotshots to backyard youth – and showing in dressage, earning ribbons for her rider. Abby embodies full equine grace with unspoiled spirit. She comes from a fine lineage and she is 100% Vermont Morgan mare, ready to work, and be by a human's side in partnership when she recognizes leadership she can get behind.